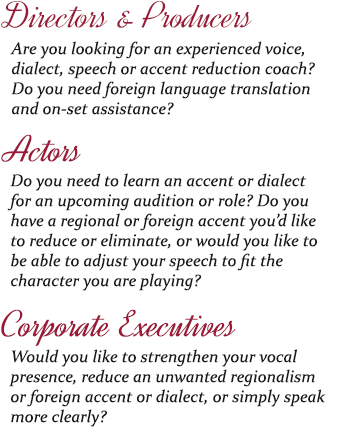 Patricia Fletcher, the celebrated author of Classically Speaking, Dialects for Actors and designated Linklater Voice teacher has worked as a Voice, Speech, Dialect and Audition Coach for actors in feature films, television and on Broadway for over 25 years.
Clients include a diverse range of performing artists from Harvey Keitel, Lynn Redgrave, James Spader, Brian Dennehy, Michael Esper, The Wonder Girls, Jean Reno, Elias Koteas, Gina Gershon and Drea de Matteo, to business professionals at Court TV, Merck Pharmaceuticals, Merrill Lynch, Goldman Sachs, and IBM. Patricia's expertise and service to the performance industry and corporate world are highly recognized.
Contact Patricia today to set up a private consultation to discuss your or your company's particular needs. Patricia is located in New York City.
VOTED BEST DIALECT COACH IN NYC—2008 (BACKSTAGE MAGAZINE)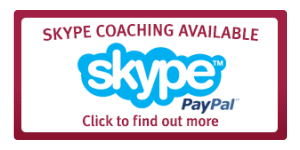 Coaching (partial lists below)
Film/TV
HARVEY KEITEL in LITTLE FOCKERS, LIFE ON MARS, FATAL HONEYMOON, JERRY SPRINGER-THE OPERA, etc.; THE BLACKLIST, foreign language coaching and translation services provided for JAMES SPADER, cast and guest actors in Russian, German, Czech, Serbian, Hungarian, Polish, Farsi, Hebrew, etc., for multiple episodes, Seasons One and Two; FOREVER, foreign language translation and coaching services provided; JEAN RENO, Dialect Coach (Spanish) in MARGARET; FARGO, Dialect Coach, Greg Littlefield; TALLADEGA NIGHTS Dialect Coach (French) JOSHUA MANNING; JEREMY DAVIDSON (Russian) in GOTHAM; NOUS YORK, Dialect Coach (Neutral American) GÉRALDINE NAKACHE, MANU PAYET and LEÏLA BEKHTI; GINA GERSHON, Dialect Coach, UGLY BETTY; JERSEY SHORE MASSACRE, Dialect Coach (New York) ASHLELY MITCHELL; SIX FLAGS "MORE FLAGS MORE FUN" (Red Line Films), Dialect Coach (Neutral American) YUTAKA TAKEUCHI; IMMIIGRANT, Dialect Coach (Russian) SAMUEL J. DIXON; and several actors for their roles in VLAD THE IMPALER and SHOW ME A HERO, among many others.
Theatre/Musicals
DESIRE UNDER THE ELMS, (Broadway) dialect coach (New England) BRIAN DENNEHY, CARLA GUGINO, PABLO SCHREIBER, dir., ROBERT FALLS; GRACE at MCC Theatre, Dialect Coach (Standard British) LYNN REDGRAVE; THE AUDIENCE (Broadway) Dialect Coach for auditions for YOUNG ELIZABETH; TRUE WEST (Broadway) Dialect Coach (Southern California) ELIAS KOTEAS; TENDER NAPALM by Philip Ridley, directed by PAUL TAUKUS Dialect Coach (North London) for the United States Premiere; LIMONADE TOUS LES JOURS, Dialect Coach (French) ELEANOR HANDLEY dir, AUSTIN PENDLETON; CHESS to benefit the Actors Fund, Dialect Coach (Russian) ROBERT CUCCIOLI, dir. CHRISTOPHER MARTIN; WILLIAMSTOWN THEATRE FESTIVAL, Dialect Coach (Standard British) MARGUERITE STIMPSON in THE ELEPHANT MAN ; THE WONDER GIRLS, JYP Entertainment, Dialect Coach (Neutral American); NEW SCHOOL UNIVERSITY–RUTGERS UNIVERSITY Resident Dialect Coaching since 1998 over 100 productions, dialects include: Standard British, Cockney, Estuary, Manchester, Southern Irish, Northern Irish, Scottish, German, Italian, Polish, Czech, Texas, N. Carolina, Boston, Oklahoma, Florida, N. Dakota, Puerto Rican, among many others.
Private/Corporate Clients
United Nations, Heineken, New York City Ballet, M.Y.R.A. Entertainment, Reuters TV, Court TV, Deloitte and Touche, JPM Chase, among many others, and SKYPE clients from around the world.