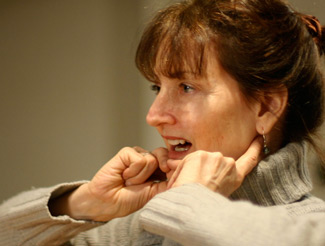 Patricia is an acknowledged specialist in teaching & coaching actors in Neutral American Speech, Classical American Speech, and Accent Reduction. Her recently published book and accompanying CD entitled Classically Speaking (Trafford Publishing , June 2007), is fast becoming an industry standard.
For over 20 years, she has been helping actors eliminate or reduce a foreign accent, speak with clear, neutral American sounds, find their free, natural speaking voice, handle classical language and classical dialect, adjust speech to fit the requirements of any character, and prepare for any on-camera, TV or theatre role.
Patricia has coached hundreds of actors in her private practice from nearly every country in the world. She has extensive experience teaching actors in graduate and undergraduate university programs, professional acting programs, and has coached a significant number of corporate clients.
A short list of speech/accent reduction clients includes: Harvey Keitel, Drea De Matteo, Aaron Stanford, Michael Esper, Andrea Anders, Michael Sorvino, Omar Rodriquez, Assaf Cohen, Mike Colter, Shannon Convery, Tara Platt, Ereni Sevasti, Victor McKay, Tiffany DuPont, Carman Lacivita, Elizabeth Reitz, Marc Menchaca, Keri Setaro, Freya Fox-Bunting, Jane Bradbury, Reuel Denir, Mark Collier, Helen Taylor, Robin Eichel Fitzpatrick, Nell Mooney, Marisol Ramirez.
Testimonials
"Pat taught me how to get rid of my New York accent so well that I needed even more coaching to get it back for that poor poor Adriana! … It's safe to say that I can pretty much slip into ANY accent ANYTIME thanks to my time with Pat."
Drea de Matteo
The Sopranos
"The fact that I am able to choose to speak without a good ole West Texas accent I have to attribute to the careful attention Pat Fletcher gave to me, first in classes, and then in private coaching sessions. I comfortably use Standard American and British RP because of the solid teaching of Pat Fletcher."
Marc Menchaca
Generation Kill (HBO)
"My training with Pat Fletcher has been priceless. As a Broadway dancer and singer who wants to expand into acting, I really had to learn to adjust my breathing as well as rid myself of any regional speech. She also helped me capitalize on my unique quirks in my voice-over work. It's truly been a pleasure learning from her."
Tia Marie Zorne
Beauty and the Beast (Broadway)
"Pat is a talented, caring professional. Since I am originally a New Englander, my training did not include saying R's at the end of my sentences. Pat diligently re-taught me correct pronunciation and reinforced it… putting me on the road to 'R' recovery!"
Meredith Gardner, PhD
President, The Strategic Edge
"Pat Fletcher not only has an astonishing ear for language, but the most comprehensive understanding of speech and voice. I have yet to meet someone as committed to their craft. The work I've done with Pat is recycled every time I prepare for an acting role. It continues to guide me and I'm certain that every student who works with her will also be aptly rewarded."
Jonathan Fielding, actor
Pygmalion (Broadway)
"Pat Fletcher is the person I call whenever I need dialect coaching for a role. Pat has made me aware of the sounds in my voice, which identify me as 'un-American' and helped me correct them. She is very knowledgeable, thorough and, fortunately, very patient. These days I'm usually able to convince most people that I'm a yank!"
James Blanchard
New York City/LA Actor
"Working with Patricia demystified the mechanics of speech for me. It's a sensible and versatile approach that has left me able to adapt my speech to any director's request on stage and screen."
Jesse Gavin
Saratoga Shakespeare Company
Law & Order, MTV
"Pat improved my English so much, and my voice is a lot stronger as well. Most people don't even think that I'm from Germany. I really like working on my accent by listening to her tapes. The improvement really shows."
Jasmin Raineri
German/American actor
"I give special thanks to Patricia Fletcher for her professional guidance, instruction in voice, accent reduction, dialects, acting and overall practical information as I grow and develop as an actor here in the Big City. She was a pleasure to work with and brings a perfect mix of the theoretical and the practical. She tailored her class perfectly towards my strong and weak points so I could feel and hear real results quickly. She is a great listener, very patient and is able to physically describe and mimic your exact problems so you can go about correcting them. She is intelligent, encouraging, dedicated and made the whole experience an enjoyable one. I cannot recommend her highly enough."
Barry McBrien
NYC Actor
"As an international actor, I know the importance of speaking with clarity on stage and film. But I was not fully aware of the accent problems that foreign actors have. Working with Patricia Fletcher has been an amazing experience…a discovery of sounds I now use to my benefit when auditioning or working. Thank you, Pat."
Luis Galli
Peruvian/Italian actor